September 08,2023

I had the pleasure of working with Liz Duenas to sell my house, and I couldn't be more satisfied with the experience. From the very beginning, Liz demonstrated exceptional professionalism, market knowledge, and a deep commitment to helping me achieve my goals. Liz guided me through every step of the selling process, providing invaluable advice and insights that helped me make informed decisions. Their dedication to understanding my needs and preferences truly set them apart. What impressed me the most was Liz's unwavering commitment to ensuring a smooth and stress-free transaction. They went above and beyond to market my property effectively, attracting the right buyers and negotiating on my behalf. Thanks to Liz's expertise and diligence, my house sold quickly and at a price that exceeded my expectations. I couldn't have asked for a better realtor to represent me. I wholeheartedly recommend Liz Duenas to anyone in need of a knowledgeable, and results-driven real estate professional. Their exceptional service and genuine care for their clients make them a standout choice in the real estate industry.

"Our journey to home ownership with Ms. Liz Duenas, Re/Max was filled with excitement. She did not just show us homes but provided us with guidance and knowledge. She was very accommodating, knowledgeable, friendly, polite, professional and kept us in the loop at all times with viewings and feedbacks from seller and banks. We would definitely recommend Ms. Liz Duenas to family and friends who are planning in purchasing a home.
Ms. Liz Duenas helped us reach our dream of owning our first home come true. Thank you."

"At a time in our life when we were finally ready to build a new home, I turned to Liz Duenas and Re/Max Diamond Realty at the recommendations of my friends. This turned out to be the best decision in achieving our goal! After finding a house lot in Ipan, Liz quickly handled everything required to purchase the property. We were excited in planning our new home but unfortunately the pandemic hit the world and threatened to halt our dream. To have the funds to proceed we badly needed to sell our existing home. Everyone said it would be very difficult to sell during this time and we would probably take a loss. Once again we turned to Liz, who not only found several cash buyers within four days of the listing, but also got our asking price! Now, 10 months later, we are about to receive our occupancy permit for our newly built home. It is with great gratitude that we highly recommend Liz Duenas and Re/Max Diamond Realty!"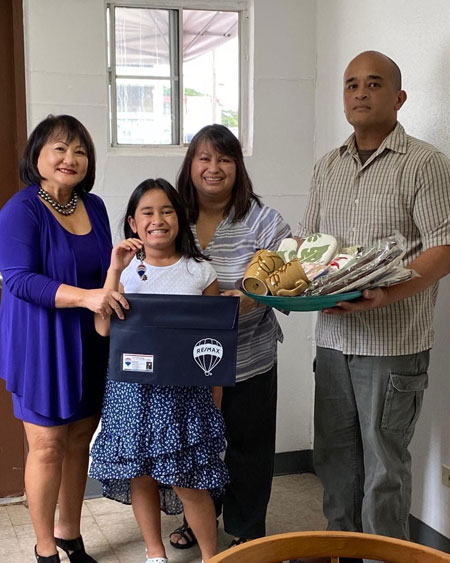 "Purchasing a home during this Covid-19 pandemic, proved to be a unique challenge and experience. My husband and I are grateful to have our RE/MAX Diamond Realty agent Liz Duenas on our side. Liz was able to manage everything at the highest level of professionalism. She made our experience go smoothly providing guidance throughout the process. Liz's real estate negotiation skills were crucial in getting us the offer we wanted. Our closing experience was truly a day to remember as Liz handed us the keys to our new family home. Liz, thank you so much for helping us find our new home."
"Liz was amazing throughout the entire home buying process. She was always available to answer any questions we might have and her timely communication kept us informed throughout the entire process. Liz and her team..."

"I am writing this letter of recommendation for Ms. Elizabeth "Liz" C. Duenas. My name is Jan Repa and I am an Executive Director with the Global Development team of RE/MAX. I have known and have worked with Liz for..."

"Recommend anyone who is in real estate business to connect with Ms.Liz Duenas. Business is trust, and all i know is that she is one trustworthy, warm hearted women. Her professionalism is known to almost anyone in the..."

"I've worked with Liz Duenas since January 1999 and I am still amazed at her dedication, hard work and endless volunteer efforts to better our real estate industry."